Ganesh Himal Cultural Trekking Beginning From Dhading Best - 9 days.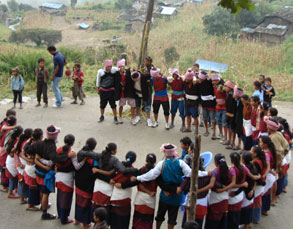 Day 01 Kathmandu – Dhading – Darkha Gaon 850m/2805Ft 6-7 hrs
Early morning a public bus drive from Kathmandu and arrive after 3 hours scenic drive in Dhading besi. Rest a bit and then start your trek. After walking about an hour and half uphill with beautiful surrounding views of Dhading Besi reach at Katunje danda from where on the clear weather day you will have breath taking mountain views of Annapurna, Manaslu, Ganesh Himal ranges and Langtang ranges. Trek descend down hill via Jyamrung gaon and finally arrive at Rinne gaon where break for lunch and trek continued walking bank of the Ankhu Khola to Darkha phedi where small tea shops are available and break for tea and then trek continue uphill about an hour walk and arrive at Darkha village. This village is a blend of Brahmin, Tamang and Dalit ethnicities.

In winter/autumn/spring you may take local share jeep from Dhading Besi to Darkha phedi of very dirt and rough road drive. Those who have short time driving to Darkha phedi and commence your trek will save you a day hike however trekking from Dhading Besi to Darkha is amazing walk passing through local villages and surrounding landscape.

Day 02: Darkha Gaon - Borang 1700m/5610Ft. 5- 6 hrs
After breakfast, trek passing through Bhogteni village, paddy terraces and suspension bridge finally arrive Percho gaon where stop for lunch and trek continue crossing another suspension bridge on Lishne khola walk through Lishne jungle and arrive Ukhum. Trek continue to arrive after walking an hour to Borang village where nearly a 150 homes of Tamang people live.

Today is gently uphill walking but in general not so hard. On the way you will have tremendous views of electric rope way , Jharlang hot spring (walking trail is quite difficult without guide not recommended to visit), Tamang villages and Ri village views.

Day 03: Borang - Chalish Gaon 1674m/5505Ft 2-3 hrs
Take breakfast , start your trek. After walking an hour walk you will arrive in Bandare Bhir (Monkey rock hill) where our explore team has invented the best rock climbing spot of the area. Enjoy its surrounding landscape and trek continue passing through Gobre village (Raba) after walking a an hour uphill finally you arrive at Deul danda and Mane danda from where you will see spectacular Ganesh Himal views. Just descend down about 20 minutes and finally arrive at Chalish Gaon. Have lunch and rest of the day enjoy having rest for acclimatization.

Chalish is inhabited primarily by Gurung, Ghale and Kami. There used to be Newar people but they migrated to Kathmandu city. The hospitable people of this area have unique customs and craftsmanship and traditional dances, including a hospitable welcome dance, Ghatu Dance, Dohori is also popular with call and response between male and female participants, a type of courtship ritual, complemented by folk music. Some dances depend on the time of year and take place during festivals including the Maruni Dance during Dasai and Tihar, Hai Nelo Dance of Tihar, and the Ghatu (Ghasiri Dance) that occurs during Chandi Purnima in the Nepali month of Chaitra. Gurung men traditionally wear vangra, a woven, embroidered cotton cloth tied at the ends that serves as a pouch for carrying goods. Sri Tinkanya Devi Mandir lies above Chalish. Local women tie bits of cloth or leave a bangle representing a wish to be fulfilled near a small pool of water surrounded by Barmase or periwinkle flowers.

In the evening enjoy watching an participating mother group dance in your campsite or just in front of lodge where you stay.

Day 04: Rest day Chalish Gaon - Tatopani (hot springs) - Chalish Gaon

Have breakfast , make your packed lunch and trek down to Khar Khola and walk a bit uphill to Takash danda abut an hour. Trek continue through Kalbadang jungle and finally arrive at Tatopani (hot springs) after walking about 1 more hour. Enjoy couple hours taking fabulous hot bath. Take a relaxing bath in the large pool with 3 taps. After rejuvenating the body, mind and spirit, enjoy a packed lunch pack lunch before the return to Chalish. On the way visit Doban river site which is locally well known holy river. Locals celebrate in special occasion singing, dancing, getting together neighbor villagers, shaman dance show etc.. There is also a small stone made Shiva temple which is well known by its name Tribeni mandir. After visiting it walk a bit uphill and cross suspension bridge and about 30 minutes uphill walk back to Chalish village.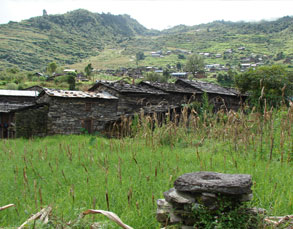 Day 05: Chalish - Shertung- Tipling 2078m/6835Ft. 3 - 4 hrs
After breakfast quick visit Chalish Tin Kanya Devi temple, trek about 25 minutes uphill to Shertung village, have a quick glimpse of Shertung village, great Ganesh himal ranges mountain views and trek down hill to Ada Khola. Cross box suspension bridge and trek all the way up to Tipling Kami Gaon taking about an hour up hill walking. Have a look mysterious views of Chalish village and Shertung village as well as its surrounding views trek continue and finally arrive Tipling village after 20 minutes walk from Kami Gaon. To make next day walk bit easier we trek little bit upper village named Lapdung where big community of Tamang people live. Enjoy Tamang culture and their life style.

Day 06: Tipling/Labdung - Pangsang Pass – Somdang 3271m/10760Ft. 6-7 hrs
After breakfast, The trail ascends through pine and rhododendron forest after about 3 ½ hours arrive on the top of the Pangsang Pass (3842m) which is known as a hill of the queen and probably the best mesmerizing mysterious and magnificent mountain view point of whole Langtang ranges, Singlal pass valley, Ganesh Himal ranges and Manaslu ranges too. Have lunch (as tea shops have not opened yet packed lunch is recommended to take with you for sure by the beginning of year 2013 locals will build tea shops) and trek continue down hill to Somdang Gaon where normal tea shops are available for over night stay. It is a border between Rasuwaa and Dhading districts.

A sprawling mining compound, no longer functioning but locals are appealing government to revive it, lies a few hours to the north upriver. The hike passes through a scenic valley featuring the 200 m Chukarma Waterfall. The former mine leaves a lot be explored and is the site of a 1.4 km tunnel bored into the mountain to extract zinc, copper, tin, crystal and even highly-prized rubies.

Day 07: Somdang - Gotlang 2337m/7690ft. 5- 6 hrs hike
The trail ascends through pine and rhododendron forest to a lunch point of Yuri Kharka after passing to Khurphu Bhanjyang and then dropping down to the Gotlang village. On the way visit Parvati Kunda which is quite popular pilgrimage center for both Hindus and Buddhist. Gotlang is a well known Tamang village of the area where community lodges are available.

Day 08: Gotlang - Syabru Besi 1503m/4945Ft. 5-6 hrs drive
Take breakfast, trek to Chawatar, Bahundanda and after a dirt track walk down hill finally arrive in Syabru Besi and over night at Lodge.

Day 09: Sybaru Besi - Kathmandu 1310m/4323Ft 8-9 hrs drive
After breakfast, Pasang Lhamu highway zig-zags road drive back to Kathmandu taking about 8-9 hours drive.