Ganesh Himal Inner Circuit Home Stay Trekking
Day 1 Kathmandu to Shyabru Besi 1503m/4945Ft. 8-9 hrs drive
Taking local bus early in the morning or a private four wheel drive journey from Kathmandu reaches Shyabru Besi, gateway to the Langtang Valley at the confluence of the Bhote Kosi and Langtang Rivers. Mesmerizing scenic driving and passing through Trisuli Bazaar, Ramche Gaon and Dhunche Bazaar makes you full of fun driving. Narrow and bit adventurous zig zags road but amazing landscape along the way driving will make you good start day drive of the trek.

Day 2 Shyabru Besi to Chawatar (lunch) to Gatlang 2337m/7690Ft. 5- 6 hrs hike
A dirt track zig-zags to the west up to Bahun Danda Pass and then down to the Tamang settlement of Gatlang, a cornerstone village on the Tamang Heritage Trail or hike to Gatlang by way of Chawatar. Gatlang is a Tamang village with unique customs and craftsmanship in a magnificent setting. Above lies Parvati Kund, popular during Janai Purnima when thousands of pilgrims are attracted to the sacred pond and nearby temple.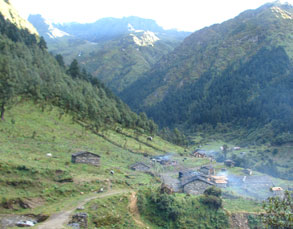 Day 3 Gatlang to Parvati Kunda, Yuri Kharka (lunch) to Somdang 3271 m/10760Ft 6-7 hrs
The trail ascends through pine and rhododendron forest to a lunch point of Yuri Kharka before continuing to Khurphu Bhanjyang and then dropping down to the Somdang River, border between Rasuwaa and Dhading districts.
A sprawling mining compound, no longer functioning but seem locals appealing government to revive it, lies a few hours to the north upriver. The hike passes through a scenic valley featuring the 200 m Chukarma Waterfall. The former mine leaves a lot be explored and is the site of a 1.4 km tunnel bored into the mountain to extract zinc, copper, tin, crystal and even highly-prized rubies.

Day 4 Somdang to Pangsang (aka, Pangsang) Pass (La) 3842m/ 12640Ft 3 ½ hrs
Pangsang Kharka is a viewpoint southwest of Somdang village with a broad panorama of the surrounding terrain. To the north are the soaring peaks of Manaslu and the Ganesh Himal Range. The large meadow is graced with a giant entry gateway and is a sensational location for camping and taking in the breathtaking scenery. The whole Ganesh Himal region is blessed with abundant herbal plants. Previously, herbs were taken to Tibet along an ancient trade route and exchanged for salt, livestock, wool and turquoise. This hill/danda/pass is known as one of the most beautiful and the best magnificent mountain views point almost in 270 degrees Langtang ragnes, Ganesh Himal ranges, Manaslu ranges and bit of Annapurna ranges mountain view point. So far tea house has not developed yet so highly recommended to have own tent however local yak hut can be used as a service shelter can be used for a night but again dry fruits/food is recommended for a night.

Day 5 Pangsang Pass to Tipling (lunch) – Shertung /Chalish 1875m/6188 Ft 5-6 hrs
Descend to Tipling, a large village that hosts two Buddhist gombas and both a Protestant and Catholic church. Along a ridge top to the east is a gomba and cremation ground for both Buddhists and Christians lined with colorful flags. Descend to cross the Adha Khola on a box bridge and ascend to the sister villages of Shertung and Chalish, regally overlooking the fertile river valley and abundant fields.
Shertung is inhabited mainly by Tamang. The name Shertung means 'place of gold'. According to a legend , two brothers in search of gold were led here by a dream and thus the settlement was born. Tamang people have own rich culture to show for the visitors jhankri or shaman dance, ghode or horse dance, said to have been brought from Tibetan culture long ago. Jankri (shaman) activity is robust in this territory with the worship of natural forces and indigenous local deities interwoven with Hindu and Buddhist practices. Chalish is inhabited primarily by Gurung, Ghale and Kami. There used to be Newar people too but they have migrated to Kathmandu city. The hospitable people of this area have unique customs and craftsmanship and traditional dances, including a hospitable welcome dance, Ghatu Dance, Dohori is also popular with call and response between male and female participants, a type of courtship ritual, complemented by folk music. Some dances depend on the time of year and take place during festivals including the Maruni Dance during Dasai and Tihar, Hai Nelo Dance of Tihar, and the Ghatu (Ghasiri Dance) that occurs during Chandi Purnima in the Nepali month of Chaitra.
Gurung men traditionally wear vangra, a woven, embroidered cotton cloth tied at the ends that serves as a pouch for carrying goods. Sri Tinkanya Devi Mandir lies above Chalish. Local women tie bits of cloth or leave a bangle representing a wish to be fulfilled near a small pool of water surrounded by Barmase or periwinkle flowers.
Shertung or Chalish village is the only village in this region from where those trekkers who have planned short 7 days trekking, walk down to Jharlang village taking about 5-6 hours and in next day walk to Darkha Gaon taking 5-6 hours finally next day after walking 1 ½ hour down hill to Darkha phedi, take sharing local Jeep with other people and drive to Dhading Besi (3-4 hours driving). You continue drive back Kathmandu in total 3 hours driving. So in total taking 2 ½ days walking and half day drive or let's say in 3 days you will get back to Kathmandu.
These two villages are the main attraction of the area by both Tamang and Gurung culture and as well as views from the place. You are recommend to stay wherever you like as both villages are not far from each other. To make you convenient although you may walk down hill to Chalish from Shertung just taking about 20-30 minutes however if you want to go directly from Chalish village from Ada Khola (the river down from Tipling village to Shertung) just after climbing a bit uphill turn right side and easily will get straight way to Chalish village after walking an hours. You will see people working in their field please do not hesitate to they will show you way to Chalish or Shertung.

Day 7 Chalish to Hindung lunch and Neber Gaon 2220m /7425Ft 6 hrs
After breakfast say goodbye to locals and trek down to Khar Khola and then trek gently up to Pasabar danda taking about an hour walk. View of Tribeni river (mixed of three rivers and Hindus and both Buddhist believe as a holy river site) just down in the valley where Lord Shiva's statue with little one stoned shrine has built. Specially in Makarsankranti festival local gather and celebrate singing, dancing and meeting friends and relatives as well as neighbors village kith and ken. From Pasabar danda trek gently uphill hill and reach at Kalbarang (just the small kharka name but no village at all) trek continue to hill edge walk and dense jungle ( there is a chance rock fall from top of the hill due to inhabitant of wildlife so careful walking with your trek guide or helper is highly recommended) and finally reach at Hindung village where huge number of Tamang people live. It is a Tamang village of around 550 inhabitants. Crystals and rubies are harvested in areas to the north and yarsagumba is hunted, too, in the surrounding highlands. Take lunch in Hindung and trek down to Hindung Khola and then trek uphill to Neber Gaon walking about 2 ½ hours. Over night at local house or camp near by local village of Tamang village.

Day 8 Neber to hot springs to Kupchyat 2066m/ 6818Ft 5 hrs
Trek down hill to Tatopani (hot srpings0 where enjoy your half day bath and then the trail onward follows stone steps built by Kadoorie Agri Aid Association and British Gurkhas of Nepal. Both organizations are active in this area and responsible for building many water taps, bridges and improved trails. Pass through Tir on the way to welcoming Racyat and Kapur villages. Finally arrive in Kupchyat village over night in camp/local house of Tamang village.

Day 9 Rachyat to Khading – Lapa Gaon 2025m/ 6660Ft 4-5 hrs
Trek to Khading village where you will see the big community of Gurung people having their own beautiful culture. While you will be waiting your lunch explore Khading gaon and after lunch trek down to Lapa Gaon which is a big Tamang village of the area where you will enjoy having Tamang culture.

Day 10 Lapa Gaon – Borang (lunch) - Jharlang (Ungul) 3000m/ 9900ft 5-6 hrs
After breakfast trek down to Ankhu khola having its beautiful water fall and then trek continue bit uphill to Borang village where stop for lunch and then trek continue to to Ukhum for lunch. After lunch trek continue to Lishne jungle, cross suspension bridge, passing through Chhapchyat village you finally get to Jharlang village (Ungul). One of the best and panoramic mountain view point of the area. This is Tamang village and belongs nearly 200 houses.

Day 11 Jharlang (Ungul) – Kuri lunch – Khaniyabas 1785m/ 5890Ft 7-8 hrs
Take breakfast at the same place and trek all the way down Jharlang Pahiro (Jharlang landslide) where takes about an hour to cross. It used to be dangerous but not only seasonal specially in monsoon you have to be very careful and in both season cross this landslide with your experience local trek guide porter. Continue trek don hill to Dungre Khola about 1 ½ hours down hill walking. cross suspension bridge and uphill walking about 2 ½ hours to get to Kuri Village. This is also a Tamang village lies right on the top of the hill from where you will see the beautiful surrounding landscape. There is no village or tea shops in between camp point to Kuri village so some snacks or dry fruits will be very useful to carry with you. A bottle of boiled water will be very useful. From the river uphill walking will be in the thick jungle so local guide or experience trek guide is highly recommended. After lunch trek continued having mesmerizing surrounding landscape, Brichet village and finally arrive at Khaniyabas Village which is known from the its VDC Satya Devi. Its about 2 ½ hours walk from lunch spot and Satya Devi has several local lodge/tea shops for local and trekkers. In your camp site there is a beautiful temple named Shree Bachchhala Devi and by its name local has a school nearby where 10+2 students have opportunity to study. On the clear weather day you will have the best and breath taking sun set views. Ankhu river views and Todke hill in horizon gives you magnificent landscape. Tamang, Bhramin and Dalit people live in Khaniyabas. This is also the village from where if any one interested after 2 days walk to Trisuli Bazaar and 4 hours drive you will get back to Kqthmandu. On the way on the clear weather day Mt. Manaslu ranges. Langtang ranges and Ganesh Himal ranges will be viewed in panorama way.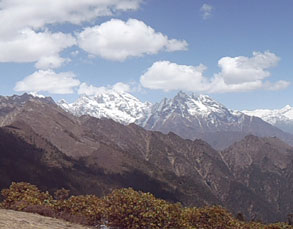 Day 12 Khaniyabas – Megang Danda 3220m /10626Ft 5-6 hrs
After breakfast trek to easy walk to Thambu Khola about an hour and then trek all the way up to Kimdang gaon (2 ½ hours walking) stop for lunch and trek to Megang Danda walking a big dense jungle right on the hill top. Being dense jungle wild animal may encounter so having local trek guide or helper is highly recommended. There is a dirt road in Kimtang to Trisuli Bazaar but only winter you will get a sharing local jeep but in the monsoon impossible to drive. Megang is another breath taking mountain views point from where you will experience of 270 degrees mountain views. There used to be several lodges but due to road construction lodges removed however there is a basic lodge for the trekkers/.travelers. to spend a night.

You may trek to Trisuli Bazaar 6 hours down hill scenic walking or walk up to Deurali 1 ½ hours walking and then share local bus/Jeep with other people to Trisuli Bazaar (2 hours driving) and then continue drive back to Kathmandu by local bus (4 hours driving).