Ganesh Himal High View Challenging Camping Trekking 17 days.
Day 1 Kathmandu to Bhalche 1850m/6105ft 6-7 hrs drive
Taking local bus early in the morning or a private four wheel drive journey from Kathmandu reaches Bhalche Gaon after driving approximately 5 hrs. This is also the gateway to the Langtang Valley at the confluence of the Bhote Kosi and Langtang Rivers. Mesmerizing scenic driving and passing through Trisuli Bazaar and Betrawati makes you scenic driving. Narrow and bit adventurous zig zags road but amazing landscape along the way driving will make you good start day drive of the trek. You will even able to start your trek on the same day but due to bit rough and tough driving spending a night in Bhalche will give you excellent acclimatization day.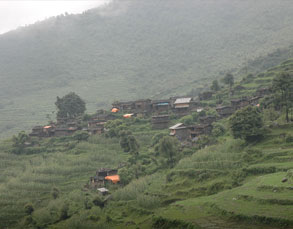 Day 2 Bhalche to Gonaga (Lunch) Rupchet 3250m/10725Ft 6 hrs
After breakfast trek bit uphill and have breath taking views on the back of Bhalche village. Trek continue passing thorough high tropical jungle and mesmerizing jungle views as well as surrounding landscape. Arrive in Thulo Kharka and stop for lunch after lunch trek continue to Rupchet where you will find beautiful camp site and yak hut. It has amazing mother goddess blessing hillside views and its periphery views.

Day 3 Rupchet vi a Singla Pass (4220 m) to Pangsang Pass 3842 m/12640Ft 6-7 hrs
After breakfast trek all the way hill top near Singla Pass (4050m) having the best almost 270 degrees panoramic mountain views of Langtang ranges, massift Ganesh himal ranges, Mt. Manaslu ranges and little bit of Annapurna ranges. Enjoy the best views and then trek continue to Mojyat Kharka where in monsoon and sometimes in spring also shepherd keeps their cattle like goat, sheep, cows and buffalo too but its seasonal. After crossing dense of jungle walking about 5-6 hours in the main jungle finally reach at Pangsang Pass. Today is really an adventure walking full of fun having flora and fauna experience and green, quiet and scenic trek but without local guide or your expert guide who has been this route only possible otherwise there is chance to lose the way. Compass with you, good trek map (Taan and GHTDC made map will be very useful) and dry fruit is highly recommended unless you have pack lunch from Rupchet.

Day 4 Pang Sang Pass – Lari 3750m/ 12375Ft 5 hrs
After breakfast trek down hill to Paikutang pass and then trek continue to Lari. Passing through beautiful hill edge walking and mesmerizing magnificent mountain views of Langtang ranges will make you full of fun trekking. Finally reach at Lari where zinc mines can be seen and sources of various herbals. No village and no human habitats but refreshing and isolated camp site.

Day 5 L:ari - Paldor Peak Base camp 4220m/ 13926Ft 4-5 hrs
Trek most of the uphill and after walking 4 ½ hours finally arrive in Paldor Peak which is known by the locals a holy mountain peak. It is said and believe that you should not make angry to God making unnecessary pollute the area and not too much noise. You be quiet, enjoy walking around being patience mother goddess mountain will bless you to have successful trip.

Day 6 Paldor Peak Base Camp Paldor Pass (4850 m) – Yanju 2020m/ 6666Ft 5-6 hrs
Have a look early morning sun rise view, stunning Langtang ragnes mountain views and Ganesh Himal ranges, take breakfast and then after passing Paldor Pass trek all the down hill to Yanju village where Tamang people live. After pass you have jaw falling down hill walking and very uncommon trail so better to be very careful but no climbing equipments and glacier or crevasses equipment is needed. Yanju is a quite poor and weather dominated village. People in here hardly see sun in monsoon even in winter temperature gets -5 c whole day and colder in the night. You may enjoy having local food but except rice or local corn floor, beans and little bit seasonable vegetable only possible to have. People barely speak English but friendly, and helpful.

Day 7 Yanju Gaon – Barmachet Danda 3550m/11715Ft 5-6 hrs
After breakfast trek all the way down to Simlya gaon (few houses) and then trek all the way up hill to Pobli Kharaka (cow hut) . Small water pond available so good to stop for lunch. In this area no village at all and due to hill terrain scarcity of water this is the only reason its good to stop here for lunch or if any one not keen to stop to cook lunch here then pack lunch is recommended. After lunch uphill walking via Malimurung Kharka finally ge t Barmachet Danda. Which is known as a another victory hill for the life time's best mountain views. This day is bit tough jaw falling hill edge walking so patience, slow walking and group walking will be successful walking. you are strongly recommended not to run or walk fast tp5 not to get altitude problem and to avoid hill edge accident. You will be magnificent views of Tipling village, Shertung village, Chalish village and even Aoi village.

Day 8 Barmachet Danda - Hindung (Gomba Danda) 2402m/7900Ft 4- 5 hrs
Trek most of the dense jungle way down to Hindung village have lunch and camp at Gomba danda. Ganesh himal ranges, flora and fauna experience and few Kharkas (cow and sheep huts) along the way.

Day 9 Rest day for acclimatization.
This day explore a bit sites but most of the day relax for acclimatization.

Day 10 Hindung Danda to Thulo Dhunga 3337m/10975 Ft. 4-5 hrs
Thulo Dhunga is a camp site with views of waterfalls tumbling down across the valley. Flora and fauna abound in the Ganesh Himal region. Wildlife includes musk deer, jharal a type of goat, wild boar, langur, leopard, pheasant and partridge. Vegetation includes bamboo, rhododendron and juniper among abundant wildflowers.

Day 11 Thulo Dhunga to Base Camp (Nojet Kharka) 3691m12140Ft. 6 hrs
The trail continues steeply with occasional jaw-dropping views of the snowy peaks. Continue through seasonal grazing areas to eventually drop into an immense green meadow and splendid camp site known as Nojet Kharka.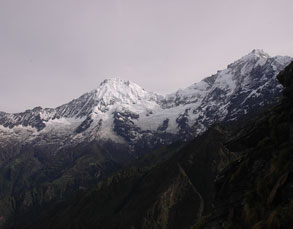 Day 12 Exploration Day/viewpoint
A climb to the ridge to the northeast, Dobra Danda, is rewarded with a supreme viewpoint of towering Ganesh Himal. The mesmerizing sight is unforgettable. Two small lakes shimmer below at the foot of the Himalaya. Kalo Kunda (black lake) has waters that mirror the awe-inspiring surroundings and the smaller Seto Kunda (white lake) has a seasonal pasture nearby. These lakes are said to have mystical powers that will bless visitors but anybody who misbehaves will be punished with poor weather and difficult travels.

Day 13 Return from Base Camp to Hindung (Gomba Danda) 2402m7900Ft. 7-8 hrs
Trek from Base camp to Hindung (Gomba Danda) will be almost the same way back you have done way up however its stunning mountain views, surrounding landscape of mother nature and jungle down hill walking makes you full of fun walking of the day.

Day 14 Hindung to hot springs to Borang 1700m/5610Ft 5- 6 hrs
Trek all the way down to hot spring (2 ½ hours) take lunch and enjoy couple of hours taking hot spring bath. After lunch trek continue via Gobre gaon all the way to Borang walking about 3 ½ hours. It is a Tamang community village and just under the big rocky hill.

Day 15 Borang – Darkha Gaon 850m/2805Ft 6-7 hrs
Trek to Ukhum, Lishne khola cross suspension bridge and having lunch in Percho trek continue passing paddy terraces, Dungre khola just right bank of the dungre khola there is another hot spring but walking trail I to hot spring is quite difficult so until and unless better trail is built trekkers are not encourage to visit. Pass Bhogteni village and finally arrive in Darkha Vaillage.

Day 17 Darkha Gaun – Darkha Phedi to Dhading Besi – Kathmandu 1310m/4323Ft 6 -7 hrs drive
After breakfast trek all the way down to Darkha Phedi taking 45 minutes down hill walk and then take sharing local Jeep with other people and the arrive in Dhading Besi after 3-4 hours rough and tough zig –zags road drive. Crossing through Ankhu Khola as well as Kimdang phedi villages, Katunje village and Jyamrung village will make you breath taking scenic driving having fabulous landscape surroundings. From Dhading change another bus and drive back to Kathmandu taking 3 hours driving.