Ganesh Himal 3 passes, Ruby valley and 3 Kunda Camping Trekking
Day 1 Kathmandu to Bhalche 1850m/6105Ft 6-7 hrs
Taking local bus early in the morning or a private four wheel drive journey from Kathmandu reaches Bhalche Gaon after driving approximately 5 hrs. This is also the gateway to the Langtang Valley at the confluence of the Bhote Kosi and Langtang Rivers. Mesmerizing scenic driving and passing through Trisuli Bazaar and Betrawati makes you scenic driving. Narrow and bit adventurous zig zags road but amazing landscape along the way driving will make you good start day drive of the trek. You will even able to start your trek on the same day but due to bit rough and tough driving spending a night in Bhalche will give you excellent acclimatization day.

Day 2 Bhalche to Gonaga (Lunch) Rupchet 3250m/10725Ft 6 hrs
After breakfast trek bit uphill and have breath taking views on the back of Bhalche village. Trek continue passing thorough high tropical jungle and mesmerizing jungle views as well as surrounding landscape. Arrive in Thulo Kharka and stop for lunch after lunch trek continue to Rupchet where you will find beautiful camp site and yak hut. It has amazing mother goddess blessing hillside views and its periphery views.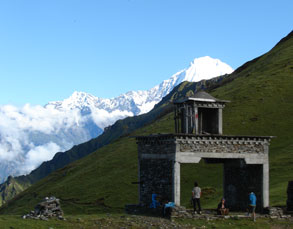 Day 3 Rupchet vi a Singla Pass (4220 m) to Pangsang Pass 3842 m/12640Ft 6-7 hrs
After breakfast trek all the way hill top near Singla Pass (4050m) having the best almost 270 degrees panoramic mountain views of Langtang ranges, massift Ganesh himal ranges, Mt. Manaslu ranges and little bit of Annapurna ranges. Enjoy the best views and then trek continue to Mojyat Kharka where in monsoon and sometimes in spring also shepherd keeps their cattle like goat, sheep, cows and buffalo too but its seasonal. After crossing dense of jungle walking about 5-6 hours in the main jungle finally reach at Pangsang Pass. Today is really an adventure walking full of fun having flora and fauna experience and green, quiet and scenic trek but without local guide or your expert guide who has been this route only possible otherwise there is chance to lose the way. Compass with you, good trek map (Taan and GHTDC made map will be very useful) and dry fruit is highly recommended unless you have pack lunch from Rupchet.

Day 4 Pang Sang Pass – Tipling (lunch) Chalish 1674m/5505Ft 5-6 hrs
Descend to Tipling, a large village that hosts two Buddhist gombas and both a Protestant and Catholic church. Along a ridge top to the east is a gomba and cremation ground for both Buddhists and Christians lined with colorful flags. Being a majority of Tamang people it has beautiful Tamang culture show. Descend to cross the Adha Khola on a box bridge and ascend to the sister villages of Shertung and Chalish, regally overlooking the fertile river valley and abundant fields. Chalish is inhabited primarily by Gurung, Ghale and Kami. There used to be Newar people but they migrated to Kathmandu city. The hospitable people of this area have unique customs and craftsmanship and traditional dances, including a hospitable welcome dance, Ghatu Dance, Dohori is also popular with call and response between male and female participants, a type of courtship ritual, complemented by folk music. Some dances depend on the time of year and take place during festivals including the Maruni Dance during Dasai and Tihar, Hai Nelo Dance of Tihar, and the Ghatu (Ghasiri Dance) that occurs during Chandi Purnima in the Nepali month of Chaitra. Gurung men traditionally wear vangra, a woven, embroidered cotton cloth tied at the ends that serves as a pouch for carrying goods. Sri Tinkanya Devi Mandir lies above Chalish. Local women tie bits of cloth or leave a bangle representing a wish to be fulfilled near a small pool of water surrounded by Barmase or periwinkle flowers. In the evening mother group of Chalish gaon will welcome you performing Gurung typical dance program and culture show.

Day 5 Chalish to Hindung (Gomba Danda) 2402 7900 4 -5 hrs
After breakfast say goodbye to locals and trek down to Khar Khola and then trek gently up to Pasabar danda taking about an hour walk. View of Tribeni river (mixed of three rivers and Hindus and both Buddhist believe as a holy river site) just down in the valley where Lord Shiva's statue with little one stoned shrine has built. Specially in Makarsankranti festival local gather and celebrate singing, dancing and meeting friends and relatives as well as neighbors village kith and ken. From Pasabar danda trek gently uphill hill and reach at Kalbarang (just the small kharka name but no village at all) trek continue to hill edge walk and dense jungle ( there is a chance rock fall from top of the hill due to inhabitant of wildlife so careful walking with your trek guide or helper is highly recommended) and finally reach at Hindung village where huge number of Tamang people live. It is a Tamang village of around 550 inhabitants. Crystals and rubies are harvested in areas to the north and yarsagumba is hunted, too, in the surrounding highlands.

Day 6 Gomba Danda to Thulo Dhunga 3337m/ 10975Ft 4-5 hrs
The trail continues steeply with occasional jaw-dropping views of the snowy peaks. Continue through seasonal grazing areas to eventually drop into an immense green meadow and splendid camp site known as Nojet Kharka.

Day 7 Thulo Dhunga to Base Camp (Nojet Kharka) 3691m/12140Ft. 6 hrs
The trail continues steeply with occasional jaw-dropping views of the snowy peaks. Continue through seasonal grazing areas to eventually drop into an immense green meadow and splendid camp site known as Nojet Kharka.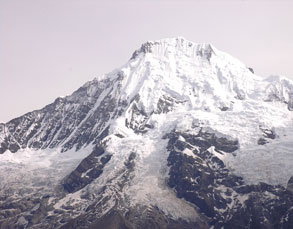 Day 8 Exploration Day/viewpoint
A climb to the ridge to the northeast, Dobra Danda, is rewarded with a supreme viewpoint of towering Ganesh Himal. The mesmerizing sight is unforgettable. Two small lakes shimmer below at the foot of the Himalaya. Kalo Kunda (black lake) has waters that mirror the awe-inspiring surroundings and the smaller Seto Kunda (white lake) has a seasonal pasture nearby. These lakes are said to have mystical powers that will bless visitors but anybody who misbehaves will be punished with poor weather and difficult travels.

Day 9 Nojet Kharka to Kharka 3900m/ 12870Ft 5 hrs
Have a look the best early morning views, take breakfast and then trek all the down hill to cross river (no bridge). In winter this river will be quite small but in summer careful it will be dangerous to cross unless you have a big team of group try with special river cross equipments. After crossing river walk taking about 3 ½ hours uphill and finally get on the top of Kharaka where only the camping possible no village and no tea house at all. It is an isolated camp site from where you will see Ganesh Himal (Yangri – 7245m) almost in 3 Km distance. Nice, cool/cold, quiet and amazing jungle camp right on the hill top but you may encounter with wild life so group trek or experienced trek guide and crew members are recommended.

Day 10 Kharka to Ganesh Kunda – Ruby area 3500m/11550Ft 5-6 hrs
Take breakfast and then visit Ganesh Himal Base camp(try) and then trek continue to Ganesh Kunda which another holy and secret lake of the area where in September hundred of Jhakri (shamans) get together and even locals participate and celebrate. Ruby mines available in this area and precious herbs available.

Day 11 Ganesh Kunda – Tatopani (Hot Spring) 1250m/4125Ft 5-6 hrs
Trek all the way down to Neber gaon, rest a bit, enjoy looking around the village sites, take lunch and then trek continue river bank walk and through dense jungle finally arrive in Tatopani (hot spring) and enjoy taking fantastic hot bath. It has a bathing pool and 3 taps. Relax and rejuvenate the body, mind and spirit. Rest of the day enjoy river bank camp in cool air.

Day 12 Tatopani (Hot Spring) – Lapa Gaon 1850m/ 6105Ft 5-6 hrs
The trail onward follows stone steps built by Kadoorie Agri Aid Association and British Gurkhas of Nepal. Both organizations are active in this area and responsible for building many water taps, bridges and improved trails. Pass through Tir on the way to welcoming Racyat and Kapur villages. Have lunch in Kapur gaon and then trek down to Ankhu Khola cross box suspension bridge and finally you arrive in Lapa gaon. It is one of the biggest village in this region and has big community of Tamang people live. Lapa gaon also have beautiful Tamang culture and occasionally you will be shown their culture show performance. Lapa has two basic lodges but other lodges are processing to build for comfort of coming tourist.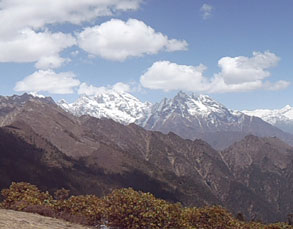 Day 13 Lapa Gaon to Magne Goth Pass 2950 m/9735Ft 4 hrs
Steeply up the hill to the west in a tall, blue pine forest with rambling rhododendron is Magne Goth, and nearby is a large boulder, location of ruby extraction.

Day 14 Magne Goth –Tinsure 1850m/6105Ft 5-6 hrs
After breakfast trek to Tinsure danda passing through beautiful alpine jungle, rhododendron forest and dense mix jungle. Its beautiful scenic walking but no human habitat. After walking 5-6 hours walking finally you arrive in Tinsure danda which is known as a queen of hill for the tremendous mountain views. Camp at the view point.

Day 15 Tinsure to Ganga Jamuna to Salangkot 1250m/4125Ft 5-6 hrs
Trek from Tinsure to Ganga Jamuna is another amazing landscape walk. Passing through little bit of dense jungle, local villages of mix culture people and hilly paddy terraces make you amazing walking. It has beautiful open views of the areas and nice and easy walking a day. Ganga Jamuna is well wishes god where thousands of Hindus and Buddhist pilgrimages visit in special occasion however Janai purnama and Makar sankranti festival will have innumerable devotees. People have strong believe that Ganga Jamuna name from the twin sister full fill your desire if you go and ask in the temple. After visiting Ganga Jamuna trek to Salankot and over night at village site camp or at local house.

Day 16 Salangkot to Katmandu 1310 m/4323Ft 6-7hrs
Finally after breakfast drive dirt road to Dhading Besi and continue drive back to Kathmandu in total taking 6-7 hrs scenic and bit adventure driving.